I love Christmas. People who know me know this is very unusual for me, because usually I'm not one for holidays and traditions and all that sappy stuff that comes with it. However, when it comes to Christmas, I make an exception. There's nothing better than decorating your apartment (which I usually do come November 1), going Christmas shopping (which I'm usually done with by November 2), finally being allowed to listen to your extensive collection of Christmas songs without people looking at you weirdly (which I do as soon as the temperature drops below 5°C) and going for a walk in the snow while everything's lit up festively around you (yes, even I get sappy then). And baking Christmas cookies of course. I rarely ever bake cookies throughout the year, so I usually go all out around Christmas time.
This year, however, Christmas is stressing me out. Since I'm working seven days a week lately, I didn't have time to decorate until last Saturday and though I usually make my Christmas wreath from scratch, by last weekend I still hadn't gotten around to it, so I caved and bought a ready-made one (well, at least I "improved" it afterwards). I also had to decide whether to go Christmas shopping or bake cookies, because I simply don't have time to do both. So I did all my Christmas shopping online one night last week and decided to go for the cookies. Especially since I don't really get around to baking at all lately.
I was aiming for 12 different ones, but alas, I failed. One turned out horribly and went into the trash. One still sits unfinished in my kitchen (well, we might rescue those still. We'll see.). And after the other nine were done, I was done as well and simply had no patience or energy or time to do more. So instead of doing the twelve days of cookies, right now it looks like it we might only get up to 9. We'll see how it goes.
Anyway. Day 1 is one of my all-time favorites. As I'm sure I've mentioned before, I
love
peanut butter. So what better way to start this countdown than with peanut butter cookies that are quick, easy and delicious?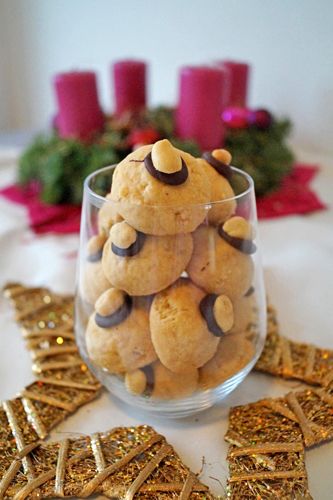 Peanut Sighs
For the cookies:

100g roasted, salted peanuts
150g all-purpose flour
100g softened butter
50g peanut butter (smooth or crunchy, as you like it)
50g white sugar
3 tsp vanilla sugar (if you can't get vanilla sugar where you live, use 1 tsp of vanilla extract)
For the decoration:
about 40 whole roasted, salted peanuts for decoration
about 50g dark chocolate, melted
1. Preheat your oven to 150°C
2. Grind the peanuts in a food processor or blender. (It's best to grind only small portions at a time, because the peanuts will form a solid mass once they're ground that can jam the knives in your processor). Mix the ground peanuts with the flour.
3. Combine the softened butter, peanut butter and sugar and whisk with an electric mixer until well combined.
4. Add the flour mixture (all at once) and whisk quickly until you get a homogenous mass.
5. Take a bit of dough and, with your hands, form small balls (for some reasons, mine always turn out at least 4cm in diameter - if you want bite-sized cookies, try to make smaller balls than I do.) and put them on a baking tray lined with baking paper.
6. Bake for about 20 minutes (the cookies aren't supposed to change their color or turn dark!).
7. Once the cookies are cooled, melt some dark chocolate, fill it into a piping bag and pipe a small dollop of chocolate onto each cookie. Lightly press a whole peanut into the chocolate.
Enjoy!
♥ Nicole