So, last night the storm that was supposed to hit yesterday finally hit us. It got nowhere as bad as they said it would be, but this morning I made it exactly as far as my subway stop and then turned back. So, unplanned extra-long weekend. I'll take it. Of course, I didn't get anything done yesterday or today (now that I finally had the chance to actually
get
something done for once), but eh. Whatever.
So day 4 today and it's a simple but really tasty cutout cookie. It's lemony, the icing works for me for once and I could finally use some of my about 40 different types of sprinkles that I seem to have amassed over the last year or so.
Lemon Wreaths
For the cookies:
120g all-purpose flour
90g cornstarch
1 tsp baking powder
a pinch of salt
125g softened butter
110g white sugar
2 egg yolks
5 tsp lemon peel
For the icing:
250g powdered sugar
3 tbsp lemon juice
1 tsp vanilla extract
3 tbsp milk
1. Mix the flour, cornstarch, baking powder and salt. Set aside.
2. With a hand mixer, beat the butter and sugar until light and fluffy. Add the egg yolks one at a day, beating each one for about a minute. Then add the lemon peel and the flour mixture. Mix until well combined.
3. After the dough has come together, knead it for a minute with your hands until it's not sticky anymore.
4. Cover in clingwrap and put into the fridge for at least an hour.
5. Preheat your oven to 175°C. Take the dough out of the fridge and roll out very thinly, about half a centimeter in thickness. Cut out wreaths.
6. Bake for about 12 minutes.
7. While the cookies cool down, mix the lemon juice, vanilla and milk with the powdered sugar. If the mixture is too thick add a little more milk at a time.
8. Dip the upper side of each cookie into the icing and decorate as desired while the icing is still soft.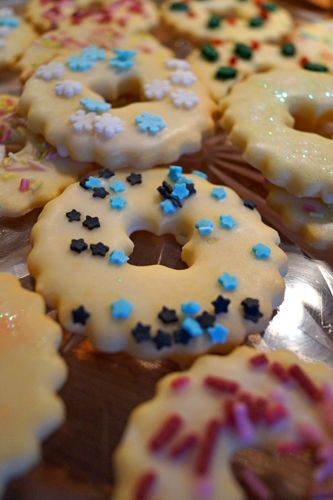 Enjoy!
♥ Nicole