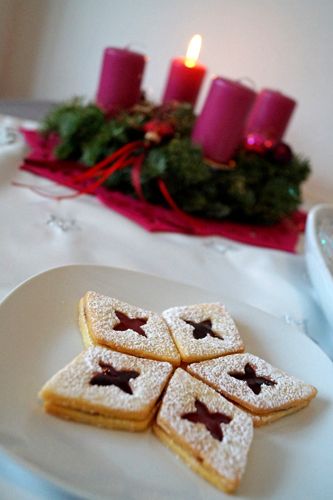 I know, I know, we should be on day 10 or something already, but I've been having computer trouble for the past week or so (namely: whenever I try to update this blog and open photobucket, my graphic card crashes), so I've spent the past few nights trying to install my new laptop. I guess I need to hurry up a little, though, if anybody still wants to try any of these cookies in time for Christmas (though they all work throughout the year as well, so don't you worry.)
Anyway. These are one of my all time favorites. They go by about 39,827,423 different names here in Germany, but I call them Angel Eyes. These are the cookie I'm mostly likely to bake again once the first batch has been eaten and whenever I give away cookies, I'm really stingy with these, cause I'd much rather eat them myself. So this year I compromised: I filled them with two different kinds of jam - one I really like, one I don't like as much myself. Then I gave away the ones I didn't really like anyway and I didn't feel bad about having to share.
They originally go with redcurrant jelly, but you can substitute that with whatever flavor you want. I've used raspberry and apricot before (the latter being the one I myself don't like as much) - so use whatever flavor suits you best.
Angel Eyes
For the cookies:
200g all-purpose flour
1 egg yolk
60g white sugar
1 p. vanilla sugar (alternatively: 1/2 tsp. vanilla extract)
a pinch of salt
1/2 tsp lemon zest
125g softened butter
For the filling:
100g redcurrant jelly (or any flavor you like, just make sure it's not jam, because we don't want fruity bits)
30g powdered sugar
1. Sift the flour onto your workspace (I usually work right on my kitchen counter) and make a hole in the middle of the flour. The sugar, salt, egg yolk, lemon zest and the vanilla sugar go in there.
2. Cut the butter into small pieces and evenly distribute around the sides.
3. With your hands, start kneading everything until you have a smooth dough.
4. Cover the dough in clingwrap and put it in the fridge for an hour.
5. Line your baking trays with baking paper and preheat your oven to 200°C.
6. Take the dough out of the fridge and roll it out to about 3 to 5 mm in thickness.
7. Choose cookie cutters in whatever size and shape you want and start cutting out shapes (squares and circles are easiest and make sure you always have an even number of each shape you cut out). Put one half of the cookies on your baking tray like that (those will be the bottom cookies), and use a smaller cookie cutter to cut another, smaller shape out of the other half of the cookies. Those will be the top.
8. Bake for about 8 minutes.
9. After the cookies have completely cooled down, stir the jelly a little, so it's less jelly-like in consistency and easier to spread on the cookies. Spread a little jelly on the bottom cookies (how much depends on the size of your cookies and how much you like), but make sure it doesn't reach the edge.
10. Lightly press one of the cookies with the cut-out shape on top.
11. Dust with powdered sugar.
Enjoy!
♥ Nicole