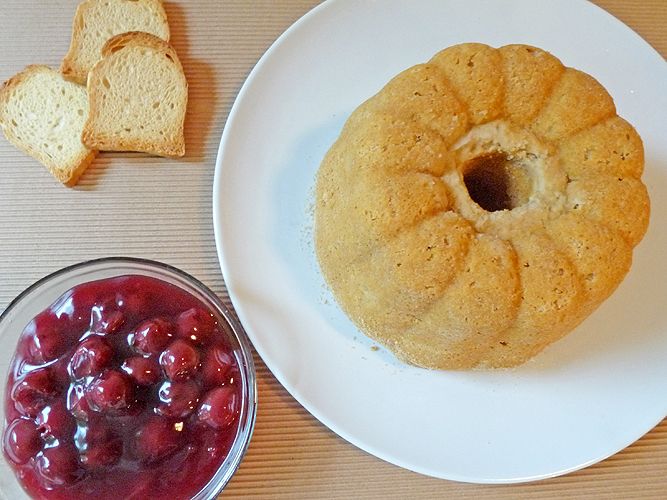 Ever heard of "Zwiebackpudding" (rusk pudding)? No? Then you'll fit right in with...well, everybody I know. Apparently, it's a recipe from northern Germany, but since I've been living in northern Germany for a quite a while now, I think I would have stumbled upon this somewhere, but I have never eaten or even seen it anywhere else. At least not in this version.Zwiebackpudding is something that my mom used to make since I was very little. It was always a special treat, because she only made it a couple of times a year. So when I moved out, I talked her into bequeathing her mold to me, because I knew I was gonna make it more often than just once or twice a year. You will need one of these if you want to make this. You could theoretically do it in the microwave as well, but it gets pretty dry in there.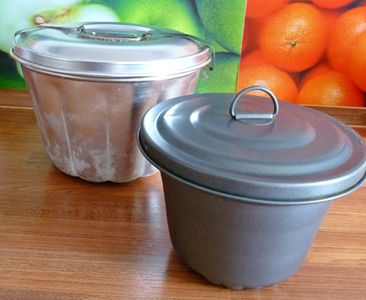 My mold has recently gotten a little brother as you can see, since the big one is usually way too big for just myself, though I really do like to make this when I have visitors. And let me tell you, so far, they've all wanted to eat it again (or at least they weren't complaining). And yes, the big one could use a vinegar bath, I know.
Zwieback is something very typically German, so I'm not sure if you can get it abroad. I've never seen it abroad, but then again: I've never looked, so you might be able to get it in some specialty stores or order it online. Or in every grocery store, who knows? The most common brand in Germany is
Brandt
. Basically, it's a twice-baked bread that is slightly sweet.
Anyway. This Zwiebackpudding takes a bit or preparation and an hour of cooking time at least, but it's totally worth the wait. It's sweet, so a lot of people ask me why I don't eat it as a dessert, but as a main entree. Well, because it's really, really rich. And filling. I wouldn't wanna eat it after already having eaten a regular meal. So you should keep that in mind when you decide whether to serve it as an entree or a desert.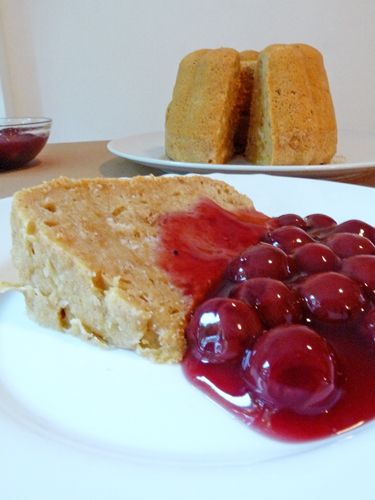 Zwiebackpudding
For the pudding:
10-12 pieces of Zwieback
125 ml milk
125 ml whipped cream
4 eggs
80g sugar
1/2 tsp cinnamon (or more. Just go for it. I usually put like, a tablespoon in there and the flavor is still pretty subtle)
1 tsp baking powder
For the cherry compote:
250g sour cherries (canned)
1 tbsp cornstarch
For the mold:
some butter
2 tbsp of breadcrumbs
1. Grease your mold (including the lid) and sprinkle generously with breadcrumbs.
2. In a big bowl, crumble your Zwieback into smallish pieces (about an inch in size). If they aren't all exactly the same size - don't worry about it.
3. Mix the milk and cream and heat up, but don't let it boil. Pour the hot mixture over the crumbled Zwieback. Let it soak for about 15 minutes.
4. Divide your eggs and whip the egg yolks with the sugar, cinnamon and baking powder until the mixture is a light yellow and has significantly increased in volume (about a couple of minutes).
5. Mix the egg yolk mixture under the Zwieback. Don't be too careful with it, it's not egg whites. Just smush it all together until you have a fairly homogenous mix.
6. Beat the egg whites until they're very stiff and fold under the Zwieback-mixture.
7. Fill the mix into the form (make sure your mold is only filled 2/3 of the way), put the lid on and cook in a pot of water on medium heat for about an hour.
8. Take the mold out of the pot and let it stand for about 5 minutes before removing the lid. If the pudding is stuck in the mold when you turn it over onto a plate, try putting a cold, wet towel around the mold or just give it a few good whacks.
9. While your pudding is cooling in the mold, divide the cherries from their juice. Put the juice in a pot, add the cornstarch and whisk continuously until the juice starts boiling. Add the cherries and let them warm in the juice for a minute before taking the pot off the stove.
Unfortunately, there is no real way to see when the pudding is really done, but with an hour, you're usually on the safe side. The recipe is for a mold about 19 to 20cm in diameter, but you can easily adjust the recipe to fit every size. When I use my big mold (which is 21cm in diameter), I usually make 1 1/2 times this recipe and the pudding turns out beautifully in about 70 to 75 minutes, when I use my small mold (16cm), it's done in about 35 to 45 minutes. Leaving it in a couple of minutes extra won't hurt it, so if you're unsure, just add 10 minutes to be on the safe side.
By the way, I apologize for the even-crappier-than-usual pictures, but I forgot to set everything up before the pudding was done and I really wanted to eat while it was still warm, so I just tried to snap some shots in my dark kitchen real quick.
However, if you do have leftovers - the pudding also tastes great cold. The cherries, too. So don't try to warm it up again, just eat it as it is. You don't even have to put it in the fridge if you just want to eat it the next day.
Enjoy!
♥ Nicole