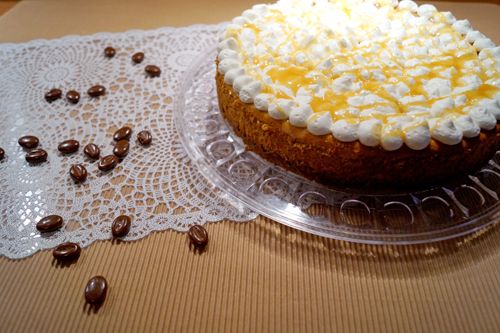 Wow, I am really neglecting this blog, aren't I? I'm sorry guys. But lately, I've had two jobs to deal with (and from next week on it's kind of going to be three for a while) and so my free time is extremely limited. And it's not even high season yet. So it's only going to get worse. Had an extra-long weekend last week and I actually got my sewing machine out of its case on Saturday and after ruining three of the three things I was attempting to make, I gave up and put it back where I found it. So nothing new to look at on that front. Half-finished handbag (which is going to stay unfinished until Christmas at the rate I'm going) and two wonky pillow cases. Nothing to write home about. Or write a blog post about. My next free weekend will be sometime at the end of November I think (and that might change at the drop of a hat and be even later), so I expect to be tired, bleary-eyed and generally exhausted for the rest of the year. Plus, still trying to lose weight so I finally fit into my pants again, so baking isn't really very conductive to that goal.
Nevertheless, I baked something this week, because it was a colleague's birthday. As usual, I had to take crappy 7am pictures in the dark before I left for work that not even my shiny new toy (yes, I finally got a DSLR…that I've had no time to play around with or figure out yet) could really salvage. But you're all used to that by now, so – whatever.
Anyway. Cake. As I've said before – I love cheesecake. Easy, quick, delicious, no matter what you do with it. I would've loved to make a peanut butter cheesecake, but since this particular colleague is allergic to nuts, I had to improvise a little. The result? Coffee Toffee Cheesecake. Which worked surprisingly well. The sweetness of the toffee was nicely set off by the not-too-sweet coffee flavor of the cake. I mainly used toffee because I still had it at home and wanted to use it up; alternatively, you can just as easily use caramel sauce and syrup instead of toffee sauce and syrup.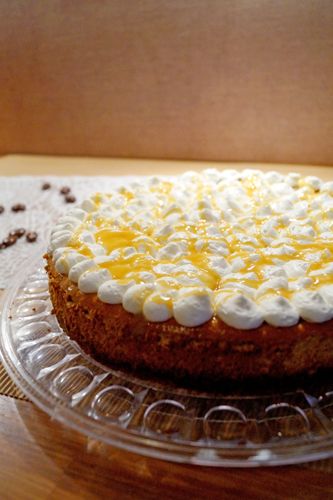 Coffee Toffee Cheesecake
For the crust
1 package of caramel cookies (I use Lotus Caramel Cookies, about 30 to 40 cookies; if you can't find caramel, use Oreos and about 20 to 30 cookies)
about 50g butter, melted
100g toffee bread spread or syrup
For the cheesecake
600g cream cheese
200g sour cream
4 eggs
2 tps. vanilla extract
75g sugar
2 tbsp flour
2 tbsp instant coffee
1 tsp cinnamon
100ml toffee syrup
1. Line the bottom of a spring pan with parchment paper. Melt the butter and pour over the finely crushed cookies. Mix together with a fork or spoon until the cookie crumbs are really moist. [You can check if the crumbs have the right consistency by pressing some to the side of the bowl with the spoon or fork. If they stick easily, they're fine, if they fall right back down, add a little more butter]. Press the crumbs evenly to the bottom of the spring pan and put the pan into the fridge for 15 minutes.
2. Warm the toffee bread spread or syrup until it gets quite liquid and pour it over the cookie base. While the toffee cools down again, prepare the filling.
3. Dissolve the instant coffee in about 1-2 tbsp of hot water.
4. Put all the ingredients for the filling in a bowl and mix until smooth. Really, don't worry about a right order or anything, just mix it all up. Pour the batter over the cookie crust.
4. Bake on 160°C for 75 minutes, then turn off the oven, open the door slightly and leave in the oven for another half hour or so.
5. Decorate as desired. (I piped some cream and drizzled toffee syrup on top.)
(Managed to snap a picture of the last piece at least)
♥ Nicole