I admit it, the longer I've been finding my recipes online, the more I started totally discriminating against food blogs that don't have pretty pictures. If I see a recipe that sounds good at first glance, but is accompanied by crappy pictures, I immediately assume the food tastes crappy as well. Which is kind of ironic, considering. Maybe even a bit hypocritical. But anyway.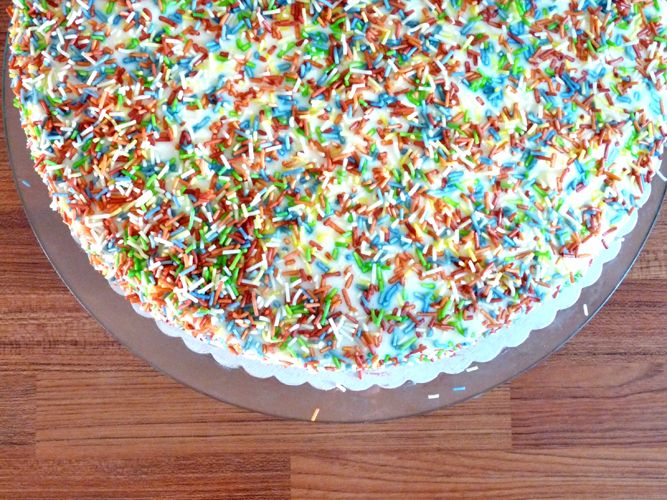 Thank god I wasn't always like that, because once upon a time when I didn't care how a picture looked (meaning: when I hadn't really seen any great food blogs yet), I stumbled upon this carrot cake recipe. It came with a pretty crappy picture (seriously, could have been one of my own), but I gave it a try nonetheless.
Best decision
ever
. This has become my go-to recipe; I've even thrown away all other carrot cake recipes I had, because this is the only one I will need for the rest of my life. I've made it countless times now and it has never failed me. Nor has it ever disappointed anyone who's eaten it. It's
delicious
. And easy to make, too! What more could you want?
This one I made for a colleague's birthday. The sprinkles turned out tasting horrible, but thankfully their taste was totally overpowered by the awesomeness that was the rest of the cake. I had hoped it would turn out a bit prettier, but well, guess I can't have everything.
I've adjusted the original recipe somewhat, because (as always it seems), it had waaaay too much sugar for my taste and I usually add in an extra carrot or two. The original also has pecans in it, but as it's practically impossible to find pecans here and for some reason they get this really burned taste when I use them in this cake, I usually just leave them out. Around Christmas, I like to crumble up some speculoos and put it in the batter, though. The cake tastes best the first couple of days after baking, but I've eaten it for up to 5 days after I baked it and it still tasted great and didn't go bad, so that's always a plus.
Carrot Cake
For the cake:
4 eggs
300ml vegetable oil
300g sugar
2 tsp vanilla extract
250g flour
2 tsp baking soda
2 tsp baking powder
1/2 tsp salt
3 tsp cinnamon
about 5 big carrots
For the frosting
200g cream cheese
200g Creme fraîche or sour cream
100g butter
2 tsp vanilla extract
50g powdered sugar
Cake
1. Grease a 28cm spring pan and line the bottom with baking paper. If you have two spring pans, use both and divide the batter between them. Saves you from having to cut the cake later.
2. Preheat your oven to 175°C.
3. Mix the flour, cinammon, baking powder, baking soda and salt.
4. Finely grate your carrots.
5. Beat the eggs, oil, vanilla and sugar together in a big bowl.
6. Add the flour mix and mix until just incorporated.
7. Fold in the grated carrots.
8. Pour the batter into your spring pan (if you got 2 pans, divide it evenly between the pans).
9. Bake for about 45 to 50 minutes or until a toothpick inserted into the center of the cake comes out clean. Don't test too early if the cake's done, though! If you stick in your toothpick too early, the whole cake will deflate!
10. Let it cool. If you only used one pan, cut the cake in the middle so you get two layers.
Frosting
1. Make sure your cream cheese, creme fraîche and butter are room temperature.
2. Mix all the frosting ingredients together in a bowl and beat until you get a smooth mixture.
Assembly
1. Generously frost one of the cake layers, then put the second layer on top and frost the outside of the cake.
2. Decorate however you want!
Bon appetit!
♥ Nicole